Ground Source Solutions Ltd
We are professionals in the design and installation of closed loop ground source heat pump systems and are dedicated to delivering this renewable energy heating and cooling system to you.
Working in close partnership with selected heat pump providers, together we are able to offer a complete service package to our clients from the design and supply to the installation of vertical heat exchangers and incoming header pipes into the plant room, all carried out by Ground Source Solutions trained staff and in accordance with IGSHPA standards.

How Do Ground Source Systems Work?
The earth is a huge solar collector, absorbing 47% of the suns energy. More than 500 times more energy than mankind needs every year in the form of clean, renewable energy.
Utilising conventional heat pump technology and a ground loop heat exchanger, low grade heat is drawn from the earth and upgraded to provide heating. In the cooling cycle the process is reversed with heat being rejected into the earth.
Why Ground Source?
• Utilises renewable solar energy.
• Reduces building energy consumption.
• Reduces associated emissions.
• Reduced maintenance costs (ground loops require no maintenance )
• Higher C.O.P (co-efficient of performance) than air source equipment.
• No requirement for on site fossil fuel consumption.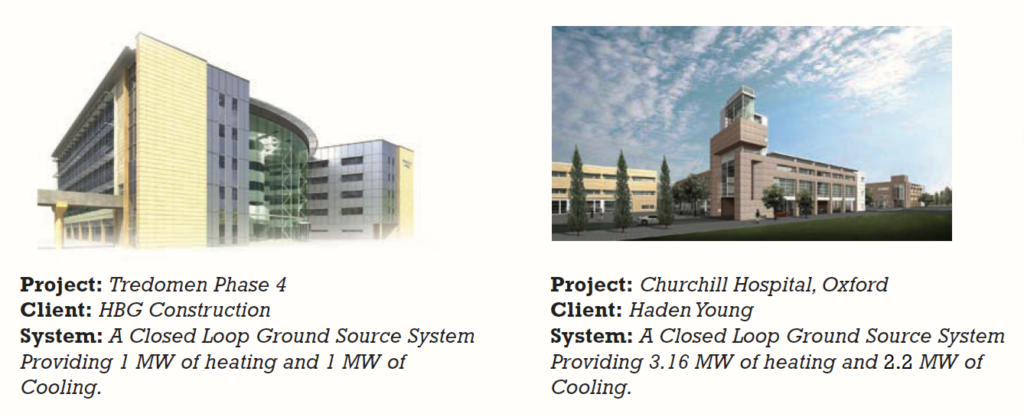 We are experienced in the installation of vertical, horizontal, open and lake/pond loops. Our case studies range from large office buildings,schools and university buildings, hospitals, hotel and leisure and social housing projects throughout the UK.
Ground Source Solutions Limited is an innovative company leading the way forward in the delivery of renewable energy, continually researching and developing to provide our clients with the most effective and efficient solution to meet their requirements. We invest in only the latest technology in plant, machinery and materials to carry out each installation to Ground Source Solutions standards and boast the very latest in drilling technology operating on our sites today. We are continually updating our knowledge and expertise and liaise with international colleagues who are experts within this field.
Tel: 01246 938499 • E-mail: enquiries@groundsourcesolutions.co.uk • web: www.groundsourcesolutions.co.uk